◐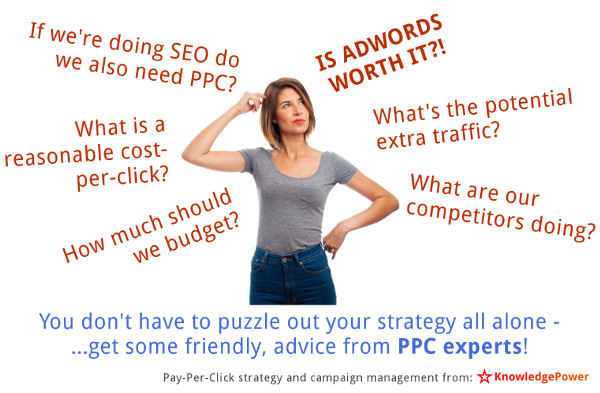 AdWords Advice & Management
Google AdWords is the no.1 most powerful digital marketing opportunity available to most businesses. However, it is highly competitive, potentially very expensive, and hard work to figure out everything you could be doing in the system.
In short, it is a good idea to get help. Considering the upsides of doing well in AdWords, and downsides of doing it wrong (or not trying it at all)... getting help from a paid search specialist agency is one of the best marketing investments for your business, once your website is built and ready to receive traffic.
KnowledgePower is a digital marketing agency specializing in pay-per-click. Based in Hampshire, we offer UK SMEs expert and cost-effective AdWords campaign management and optimization.
New to AdWords?
We have years of experience helping businesses get set up with PPC campaigns. Whatever your business size and whatever the current level of digital marketing knowledge in your team, we'll plug in at the right level to discuss the right strategy and get your ad campaigns implemented.
Previously tried AdWords, or currently active?
AdWords can be daunting or frustrating if you are trying to work on it by yourself without good advice. Send us a message telling us where you've got to so far, and we'll suggest ways we can help out. Also, be sure to download the PDF guide on this page as it contains advice about common mistakes made by businesses running their own PPC.
Why KnowledgePower
Firstly, if you are based in the South East, we get the advantage of easily meeting up face-to-face to discuss your marketing strategy. As a digital business based in Hampshire (and enjoying the seaside air!), we aim to be more affordable than central London marketing agencies, while providing you with the higher professional standards you would expect from established UK company.
Reasons Clients Enjoy Working With KnowledgePower:
We are happy to work with small businesses and entrepreneurs, including where your PPC budget is restricted
Happy to help with ideas and discussion about your marketing over phone, email, and chat
Strategy-minded, i.e. we'll help put your PPC in context of the whole picture of the online side of your marketing
Jargon-free. Admittedly, AdWords/PPC have their own geek-speak but we communicate clearly what we are doing at all times
We optimize your advertising end-to-end, i.e. including work on your landing pages, analytics, and the path/incentives for visitors to convert. [OK, that one got a bit jargon-y]
Contact KnowledgePower request a call back or ask questions about pay-per-click marketing.
Hey, skim-reader! Have you got our AdWords advice PDF?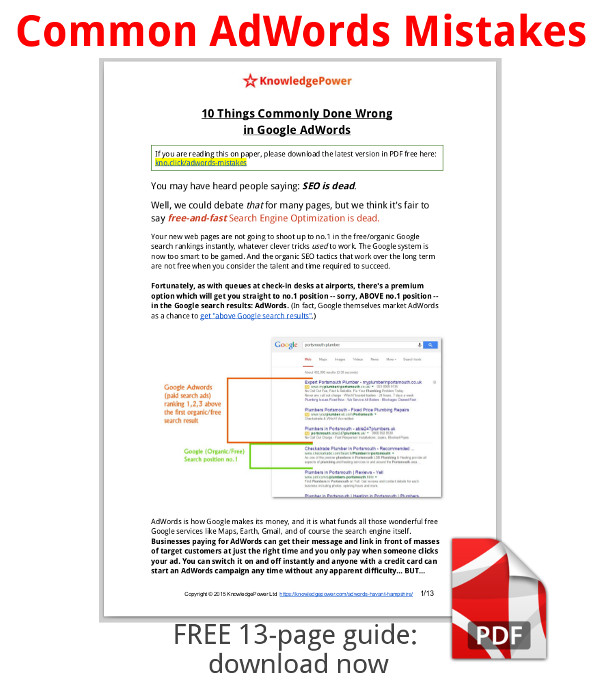 You can get a good feel for how we will work on your AdWords from this free "10 Things Commonly Done Wrong In Google AdWords" report. We'd welcome any feedback or questions about the ideas inside. Download the PDF here.
Hope you enjoy reading, and we're looking forward to helping out on your PPC marketing when you need us.
Get A Quote for AdWords Campaign Management
Contact George at KnowledgePower:
[email protected] - 02392 809717
About KnowledgePower - Contact now

To find out more about how we can help with your AdWords, check out the following pages: