Use the form and Paypal checkout on this page to order a csv list of all followers of a particular Twitter account.
Please use Twitter user accounts legally and responsibly, not for spamming or antisocial practices.
A service from KnowledgePower, UK digital marketing agency specialising in pay-per-click and social media.
List of Twitter Followers for any accounts
Use the form below to order a csv/excel list of all followers of a particular Twitter user. (24 hrs to process.) Our software fetches a list of followers using the Twitter API, and although commonly called "twitter list scraping" this is a system-permitted research method that simply speeds up the process of compiling Twitter user lists automatically with publicly visible and non-sensitive data.
List your competitors' followers and advertise directly to these users in Twitter
Upload Twitter user lists into ads.twitter.com system to build custom audiences for campaign targeting
Very useful for market research and social media marketers
Contact us for bulk orders and social media advertising support
Pricing
£5 for a single Twitter account follower list, and discounts for a group of 2-5 or 6-10 accounts to scrape. Use the secure Paypal checkout below and feel free to contact us for batch orders etc.
Please note it is a list of the followers OF the specified Twitter account, not the ones that they follow.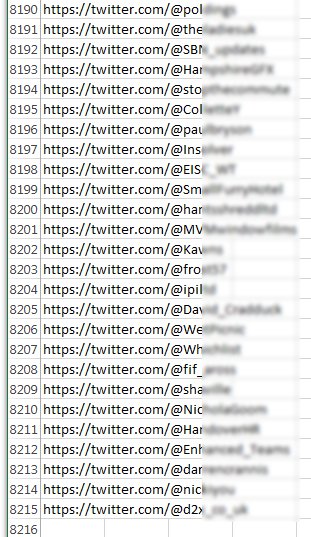 Click here to download a sample csv Twitter user list [4,470 followers of Twitter @UKBing]
---
Order Now
Important notes:
Delivery is not instant: please allow 1 working day for us to queue up the list building
File sent to your Paypal email address; you can specify different email address in the comments of the order
(Accounts with over 10,000 followers may take more time as our Twitter scrape system runs at moderate speeds in order not to abuse the API)
Full refund guarantee if we cannot successfully download the lists you require. Please contact us for any custom requests.
---
Notes
This service is intended to support legal and ethical usage of the Twitter advertising system, in which you can upload custom audience lists in order to target your Twitter ad campaigns more accurately and hopefully relevantly for the people seeing your promotions.
Please filter and check the user lists before using Twitter advertising system: this is your responsibility and we are not responsible for the accuracy or completeness or relevance of the user list, or any use you make of it.
The data is obtained within the reasonable developer/API limits of the Twitter system. Please don't spam or otherwise break Twitter rules and cause a PITA for everyone.