*We send you the gadget for free,
You record and share your video review.
KnowledgePower is a UK-based marketing agency. We represent a growing list of Chinese consumer electronics brands and factories, and are seeking new, tech-savvy video reviewers to do unboxing videos. Help with their publicity and product feedback while getting free kit sent to you, basically. Read more details below and get in touch with us to find out the latest lists of products being promoted.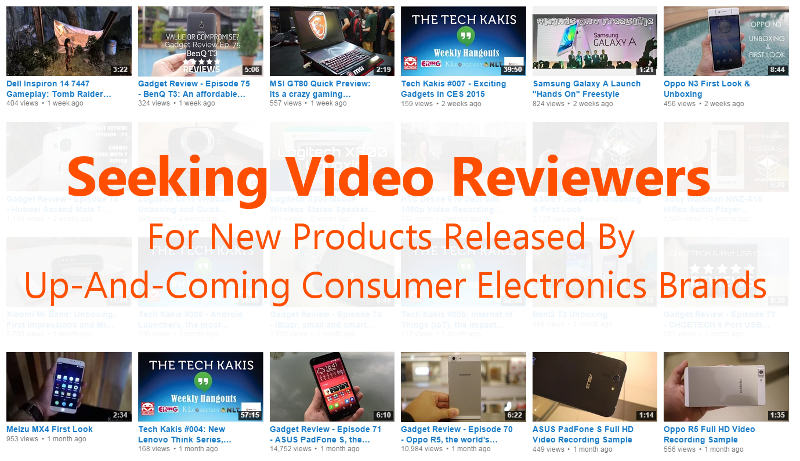 About The Program
There are a lot of great quality, innovative electronic products coming out of China. Their (huge) market is in the US, Europe and the UK.
These Chinese brands often struggle with promoting their products' strengths and many companies are still developing their new brand identity, especially if they used to be factories rather than direct to consumer product sellers.
In other words, the products can be very cool (and usually cheaper than the big brands), but not well known. The products are usually for sale on Amazon and eBay so they are available for Western consumers... The brands just need help getting the word out there.
Getting video reviews is essential both for informing consumers about the good and the less good, and for feeding back genuine customer experience comments to the guys developing the products.
We are developing a growing network of long-term video review partners. We'll feed you regular new product samples and you test and review them in a timely manner and hopefully find that a lot of them are really cool. We are looking for genuine, balanced, informative reviews.
Process:
We send you info about one or more products to see if you are interested
You reply saying which products you would like to review
We send the product to you for free
You test the product and contact us with any technical queries
You produce your video review
You publish the video review on your Youtube (etc) channel and notify us
We feed back the results to the brand
The product is yours to keep / sell / give away
We are mainly interested in working with reviewers who can more or less guarantee that the product will get airtime. This is particularly the case for the higher value categories like phones and tablets: our sellers need to know it is worth sending out the free sample.
The Best Video Reviewers:

Have great quality video, sound, and editing
Regularly share product review videos in an engaging format
Have an active and growing audience on the channel
Build in entertainment value as well as factual info
Use real use cases such as field tests of cameras, hands-on in daily life, etc
...Top reviewers will have access to exclusive pre-release samples
Some of the product sellers will make available voucher codes for you, so you can provide the code to your video audience and unlock price discounts for them.
Products:
Mobile Phones
Tablets
TV boxes / Android media players
DVRs and sports cameras
CCTV equipment
GPS devices
Accessories like cases and cables
PC peripherals
Office electronics
Outdoors kit
Electronic toys
---
About Your Reviews
An informative and watchable review after testing the product
Advantages and weaknesses of the product should be described in a balanced way
Video should be shared online preferably in YouTube with clear title and description
Video must mention the brand and product name and model code within the video itself
Video description must list the product details and preferably link to the main product info page on the brand's own site, or your site
In the video you should make clear that you have been sent the product for review
Videos should not be too short, i.e. a reasonably detailed look at the product
Your review about the product we sent you should be standalone: if it is part of a longer gadget show featuring other topics, please publish a copy of the video focusing just on our product so we have something clear to link to
The product is yours to keep. If you subsequently give away the product sample as a prize etc for your followers, please credit the company by clearly referencing the brand and model code.
After publishing your review, the video should be kept online for at least a year: we are looking for stable channels which build video views organically over time.
Jan-March 2015: UK Focus
Currently we are focusing on building a network of reviewers based in the UK. Your video should be British English and focused on a UK audience. We are seeking established electronics reviewers who get over 500 views on new videos within 1st month. We prefer channels which are focused on particular types of hardware. When applying please give us details of your channel and product category focus.
---
Our email:

---
Further Details / Small Print
KnowledgePower Ltd (UK) manages communication and administration for the review process
Don't mention KnowledgePower in the review - you are just talking about the online shop the product comes from and/or the product brand
Your contact details and address may be available to the seller of the product, mainly in cases where the sample is sent directly to you from the seller's stock
We cannot guarantee that you will receive any particular quantity or frequency of product samples: no contractual or commercial obligation is established by agreeing to work together and receive samples
We do not pay for reviews
Some sellers have affiliate programs and if planning to use affiliate links from your reviews, this must be confirmed with us
For some expensive products we may want to take the product back after your review: if this is the case it gets discussed and agreed in advance
Some brands may require you to sign NDAs and or abide by product release dates
Product samples are sent from within the UK/EU (for UK reviewers) and within the US for USA reviewers, so it should be that there are no additional postage costs or import tax arising
For obvious reasons we ask reviewers to avoid negative and defamatory remarks which are not within the context of a fair review: if you receive product samples that are faulty or substandard, or where you don't wish to do the review, contact us to arrange sending the product back